« One More Day in London before Moving On | Main | Bath - Day Two »
July 14, 2014
Bath - Third Try
I have written and lost this little post about Bath three times. I'm going to try to save every other sentence!
We arrived in Bath on Sunday morning, just before noon, after a 1 1/2 hour lovely countryside train ride from London. We saw lots of wheat fields and animals grazing as well as a nuclear plant. Somehow it didn't quite fit. Unfortunately, we had a bit of a mixup with our hotel hosts who didn't expect us until 2:00. So, Connie and I dragged our suitcases even a bit further to a pub where we had a passable lunch. My hamburger was fine, I was just tired and needing to get settled, and completely in the dark as to when the hotel owners would be located. They do not reside in the building and have other businesses. I left messages by phone but hadn't heard back. After lunch, Connie went back by the house and found some people leaving who let her in. She called me and I followed -- and we finally connected with the owners.
After getting settled in our lovely rooms (no complaints there), we set out for a bus tour of the outskirts of town. My earphones didn't work well, so I just had to pretend to know what I was seeing. However, the top of the bus was quite balmy and the trip lovely through the hills around Bath. I resolved to take my iPhone plugs the next time. After the tour, we headed for the Roman baths and a wonderful, and quite comprehensive, tour. The baths are many centuries old, but the self guided tour takes us through the Roman city of Aquae Sulis which contained many pools bubbling up from the deep with supposedly healing warm waters. How the Romans ended up in Britain in the 1st century is a mystery to me, but they obviously were there for the baths. A great deal is known about their culture and habits, and the tour takes you through items found from their times - the Roman ruins being at least 18 feet below the more contemporary dirt floors.
The baths have waxed and waned in popularity. In 1687, the supposedly infertile Queen Mary bathed here and gave birth to a son 10 months later which revitalized the area. Today the town is filled with ancient buildings made of the creamy limestone called "Bath stone." It has more government protected buildings per capita than any other town in England. It is a pleasure to walk through the cobbled streets and peer up at the multiple chimney pots right out of Mary Poppins!
After the tour, we found a restaurant and had dinner. I might say that it wasn't our best culinary day. I also have to say that not all Brits make a great roast beef and Yorkshire pudding! Our accommodations are lovely -- nice linen, a fantastic shower, and I even have a queen size bed since I ordered an en suite room. There are only about six rooms in this building which is narrow and tall. Connie is on the upper-most floor with a tiny room. We have no complaints. The breakfast was good -- better than the Celtic. They surely feed you well in Britain.
Here are some pictures from the Baths: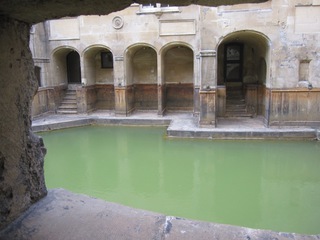 Posted by Marilyn at July 14, 2014 8:04 AM
Comments
Post a comment