« October 2011 | Main | December 2011 »
November 30, 2011
Hong Kong Day 13
One thing my daughter and I love to do is eat and eat well. Actually, I could include her siblings and spouses in that too, but unfortunately they are not sharing this experience.
Yesterday, while food shopping in the mall, we searched several restaurants as luncheon possibilities until we found the Italian Isola on one of the higher floors. We had vetoed a few super!!! pricey establishments and we could see from the white linen tablecloths and the well heeled clientele that Isola certainly wasn't inexpensive. We might not have chosen Italian in Hong Kong, but it was clear that this was a destination place for the chic business crowd. We made an excellent choice!
We chose the Prix Fixe menu which began with a impressive antipasti buffet followed by a main dish (housemade taglierini with lamb), dessert buffet and coffee or tea. It was absolutely wonderful and the view over the harbor wasn't too shabby. We basked in the afterglow for hours.
Dani's and my Selections from the Antipasti Buffet

The cool, windy day today invited us to kick back, relax, and enjoy a day at home until we left on the 5:15 ferry to meet Charles and his friend, Alison, for dinner in Wanchai. Alison is the teacher whose apartment Dani and the boys stayed in last Christmas while she was home in Vancouver.
I kept telling Charles that I wanted a real Chinese experience and this filled the bill. Wanchai is the old Hong Kong, not the glitzy upscale malls that flank the ferry terminal in Central. Yuan served Hakka cuisine and the meal was fabulous. The piece de resistance was the chicken baked in a pumpkin, but the salt grilled prawns, sweet and sour pork ribs and fried rice with shrimp were all wonderful.
Chicken Baked in A Pumpkin

Salt Grilled Prawns

Sweet and Sour Pork Ribs

Afterwards we took the opportunity to ride a double decker tram back to Central where we were to catch our ferry home to Lamma. Tomorrow we go to Macau. I think I will leave my computer in Hong Kong so the blog will be quiet for a day or two. We return on Sunday, and I leave for home on Monday. Still some adventures to come!
Wanchai at Night

Notice the Bamboo Scaffolding

Posted by Marilyn at 1:42 PM | Comments (0)
November 29, 2011
Interlude And Hong Kong Day 12
When our children graduated from college they got a monetary gift with which to travel. Dani chose to go to Europe, and when she arrived in Ireland, she cashed in her Eurail pass, and she and her friend, Erica, settled down to live with a family whose sons had left to find work in another country. They went to the pubs each evening and sang Irish songs. They became acquainted with the culture and never continued their tour of countries. I have empathy with that mindset.
Living with someone in a country gives a sense of place. It was how I felt in Singapore and how I feel right now on Lamma Island, Hong Kong. Walking into the village to shop for food, taking the ferry into the city for goods, walking to the beach, sharing a part of the life that my daughter and her family are living -- all these things tell me something about the culture that i wouldn't know staying for a week or so as a tourist in a hotel. There is a sense of community -- friends they have met, schools children attend, places they enjoy and things to avoid. Yesterday we did touristy things, but mostly we just live in the culture.
All that said, when I first arrived and walked the village streets right off the ferry and encountered the smells emanating from the myriad of tiny restaurants, the bustling of the night life, the narrow streets and the rows of wares for sale, the walkers, bicyclists, the vv's that shared such a tiny space -- all were a bit overwhelming. Now, I'm just one of the crowd walking through the Lamma island streets daily. And, the narrow lanes leading up to the house have become familiar.
I first thought the little tile houses very dreary, but Charles points out that it is because so many have so much junk around from trash to clothes drying to dogs barking, garden stuff, building materials -- it is rare for many houses to be stark, unadorned or free of clutter. And, of course, they are so close to each other leaving no space for yards or even storage. But, in the past week, I have come to realize that they are quite charming. If you look closely, many have tiny little gardens growing behind a wall and often will have decorations over their doorways.
I thought I would post some pictures of the houses I walk past daily so you could get a feeling for the atmosphere of the island. My one accomplishment today was to find my own way through these houses to the village without any help from a grandchild. I'm pretty proud that I actually reached the village and got myself to the ferry to meet Dani in Hong Kong where we had an exquisite lunch at Isola, an Italian restaurant at the top of the IFC mall. Afterwards we shopped at CitySuper, the lovely international grocery before catching the ferry back home.
Posted by Marilyn at 6:25 AM | Comments (0)
Hong Kong Day 11
Today was a real touristy day. We began by taking the ferry into Hong Kong and having Dim Sum at the upscale Maxim's Palace at City Hall, one of three suggested in the Lonely Planet guide book which KJ left for us when she went back to Koala Lumpur. It was absolutely a treat, very expensive, and worth every cent. We arrived at around 11:30 and by 12:30 the very large restaurant was completely full with a long line waiting to get in.
We followed lunch by a taxi ride to Hong Kong park where we walked through the various sections to find the aviary which we all enjoyed. Nico was mesmerized by all the birds. It is an easy walk along boardwalks on another sunny balmy day. Right next to the aviary is the children's playground where Nico enjoyed goofing around on several playthings including a very long yellow tube slide. James, of course, was watching his brother, but he managed to sneak in a bit of fun himself.
Across the street from the park was the tram to the peak. Nico had balked at going up in the tram the last time Dani had attempted to take him, so we passed on it the other day with KJ and Bryce. But, here it was right in front of the park, he was in a good mood, and there was no line, so we went for it and managed to get him on the tram before he knew what was happening. Of course, he wasn't so happy when we needed to come down again because by then he was pretty tired from a full day. But, what goes up....
The views of Hong Kong from the peak are quite amazing but it was totally different than I expected. I had no idea that it was so commercial with stores and restaurants galore. The steep tram ride is a bit exciting especially because you ride it backwards on the way down. But, Nico survived with little complaint.
We took more taxis today making it reminiscent of Singapore were we took several taxis a day -- but we also got in our fair share of more walking. Got home in time for Dani to make mac and cheese for dinner. All of us were tired but pleased with our day.
The Dim Sum Carts with a Little TV Screen to Show the Wares

One of Many Lovely Fountains in the Park

The Park is Surrounded by Downtown Hong Kong

The Walks Through the Park Are Lovely

Some Aviary Shots

The Peak Tram

Nico Up On the Peak

Posted by Marilyn at 3:27 AM | Comments (1)
November 28, 2011
Hong Kong Day 10
This serious walking has got to stop, but I fear that won't happen until I get home. But, when I get home I'll not want to lose ground (no pun intended) on keeping in shape. Surely I've lost a few pounds by now. All the others who live here look great! I guess I'm damned either way.
This day had a flavor of its own. Charles had a visit from the monks and nuns from the Buddhist temple. They were on an outing day and decided to visit Lamma. He met them at the ferry and brought them home where we shared a tea with snacks of fruit and nuts. They were most enjoyable. I talked the longest with a woman from San Diego. Most of them spoke English as Dani warned me when she heard me speaking more slowly than necessary. They were excited to see Nico, but he was acting very shy and not too communicative. After tea Charles took them all to the beach for the afternoon.
A few hours later, I decided to take a walk to the beach myself. It was in a completely different area of Lamma so James took me part way and pointed me in the right direction. Of course, I got lost and took a wrong turn but came out on a road that had a sign to the beach. Meanwhile James worried that he might have not been clear on directions, so he was looking for me. When people here say something is a short walk, they lie. (ok, it's a short walk for them). We finally got to the beach and met up with Charles and the brown robed party relaxing in the shade eating a picnic lunch.
Nico was playing with his friend, Alan, while Hanna was eating lunch at the beach restaurant with her mother-in-law who had just flown in from Goteborg, Sweden. So, I joined them for an iced tea and welcomed another grandparent to Lamma Island. I decided to follow Hanna home since Charles was taking his guests to the ferry. Of course, Hanna took the scenic, but longer, route home (groan) past some great drummers and some vegetable gardens (lovely).
Later that evening, I realized that I am definitely becoming acclimatized when we decided to walk to the Indian restaurant for dinner. I no longer even consider that to be a chore. Again I was in bed at 9:00. If I lived here, I would get a bicycle like all the other residents!
A Lovely Walk to the Beach

Hung Shing Yeh Beach

Charles Enjoying His Guests

Nico and Alan

In A Tree (As Usual)

The Beach Cafe

Street Musicians

Posted by Marilyn at 3:42 PM | Comments (0)
November 27, 2011
Hong Kong Day 9
What a gloriously beautiful day this has been. So many of the days have been hazy or overcast although pleasantly warm. Only a few days have required any kind of wrap even on the ferry at night. But, today simply smiled! It was clear, sunny and balmy. The smog or fog disappeared and everything glowed golden in sunlight. It was Sunday so the masses were out in force even on our little island.
We left by ferry at noon to meet Charles for lunch in the IFC mall. Then, James and I went to Kowloon to do a bit of clothes shopping since he tore his last pair of long pants, and Dani, Charles and Nico went on a cell phone trek to try to get Dani's iphone fixed. Kowloon was an absolute sea of people and an overload to the senses. The malls are decked out with Christmas decorations and playing carols over the loudspeakers. It takes stamina to wade through the masses of humanity packed many feet deep in every direction. It was stimulating and exciting for a brief moment but gets old very fast.
We met up with KJ, Bryce and Oscar about 2:30 and wandered the Kowloon boardwalk experiencing outdoor vendors and a taste of culture. It was Cantonese Opera Day and there were performances on several makeshift stages. As we walked along, we saw several students with graduation robes and four or five brides taking pictures. James suggested that they were putting on their finery to take pictures on such a glorious day. We headed for the two story Starbucks looking over the bay towards Hong Kong and enjoyed sitting there until we finally hooked up with D,C & N who had purchased some temporary phones. You simply cannot live in Hong Kong without a working cell phone.
Walking back towards the ferry landing and the mall, James and Charles took the two tired little boys for pizza while the rest of us had a fabulous dinner at Shanghai restaurant, Chrystal Jade, where we dined on a variety of tasty dishes chosen by Dani and Bryce. Then, we waded through the masses again to get to the little beloved Star ferry that took us back to Hong Kong and, alas, a final parting with good friends headed back to Kuala Lumpur on Monday. We boarded our Lamma Island ferry and felt the warm breezes as we bobbed up and over the waves towards home.
Believe me, I was never so glad to reach the lovely, quiet, serene abode after wading through teeming masses of people and all the sounds and chaos of the city. We walked for miles today. I dropped into bed at 9:00. But, it was a true taste of living here and I was glad to have the experience. The sheer rush to the senses, the myriad of sights and sounds, the marathon walking, the amazing food, and being with friends and family in a foreign place are memories that I shall never forget.
The Star Ferry to Kowloon

A Taste of Chinese Opera

Just Another Day on the Boardwalk

style="" />
Some Interesting Traffic

This is Not A Mattress, But A Golf Course

The Teeming Masses Seen From the Escalator into the Mall

A Very Small Portion of our Great Meal

Chinese Beef Sandwich Makings

The Best Way to Keep Track of Two Tired Little Boys

Posted by Marilyn at 12:59 PM | Comments (0)
November 26, 2011
Hong Kong Day 8
A lazy day today after a late night yesterday. Dani, Nico and I walked down to the village for lunch at her favorite vegetarian restaurant which was completely busy meaning that all 10 table were filled. Afterwards we walked home, and I did my laundry and wrote on NaNoWriMo. I've passed the 40,000 mark and going into the home stretch. I've been amazed that I could keep up with it while visiting. But, we always have some down time to relax.
KJ and Bryce took Oscar to Disneyland today, and we decided not to join them since Dani's family went in December. I guess the Disneyland here in Hong Kong is very small but still expensive. It would have been fun, but not enough to make me miss going. Instead Dani, Charles, James and I played a marathon game of Euro-rail which Charles won. We began in the early afternoon, played through a series of snacks beginning with popcorn, and then cheese and crackers left over from Thanksgiving, and ending with a great bowl of soup that Dani made in between her turns at the game. We finished up after Nico went to bed. I hadn't played in a few years but it didn't take much to get in the groove. It is such a great game.
I think we will once again join KJ and Bryce tomorrow for a bit of sightseeing.In the meantime, Dani and family have been going crazy over some little tiny Malasian hard candy that they brought as a Thanksgiving gift. It is called Sticky Candy and you can watch it being made on the web. It is unique and very good. We're on a search to find it in Hong Kong.
Meanwhile the flower shots are taken along the back alleys between the house and the village.
Posted by Marilyn at 6:34 AM | Comments (0)
November 25, 2011
Hong Kong Day 7
The world is so very small. Yes, it is plainly obvious that I am in a foreign country. But, our experiences are so international. Today Dani, James, KJ and I enjoyed high tea at the Hong Kong Four Seasons. All of us are tearoom fans. My daughter and I have enjoyed many lunches at my favorite tearoom in Bellingham. KJ and I meet there every time she returns from abroad. James, along with his brother and cousins, has accompanied me since he was a little child.
The Four Seasons was definitely not my little Bellingham tearoom. The Abbey Garden more resembles a small British pub with soups, salads, tea sandwiches, fruit and a wide selections of tea. The Four Seasons is upscale, with posh seating, lovely service and delicate offerings of tiny bite-size sandwiches, excellent scones, and an array of miniature desserts. We carefully scanned the web before choosing the Four Seasons. The Peninsula is supposedly the penultimate high tea experience in Hong Kong, but recent reviews were not flattering. The Four Seasons got high marks for their scones and was situated in the large mall next to our ferry landing. I think we made the right choice even after waiting more than a half hour to get a seat.
After eating, we met Bryce and Oscar at the ferry for the return to Lamma Island where we gathered at the McClellan/Wheeler abode around a coffee table laden with an amazing selection of wines and appetizers Everyone was wild about Bryce's offering of a Spanish delicacy "jamón ibérico de bellota" which is ham from free-range pigs that roam oak forests along the border between Spain and Portugal and eat only acorns. He couldn't resist since pork is not a dish readily available in Kuala Lumpur. Hanna brought delicious marinated artichoke hearts with her own added spices. Cheeses and crackers and various wines completed the feast that we enjoyed over several hours.
Friends Hanna and Johan, whose son, Alan, is in Nico's preschool class have recently moved to Hong Kong from Sweden. Meeting them was a treat for KJ who was able to discuss her Swedish heritage. Three little boys played happily upstairs until almost midnight when KJ and Bryce had to tear Oscar away from his buddies to catch the ferry back to their Hong Kong hotel.
This was a wonderful day filled with lovely experiences - an amazing array of food, new and old friends and family, stimulating conversations. No complaints from this traveler!
Here's A Few Tearoom Pictures:
Posted by Marilyn at 3:43 PM | Comments (1)
November 24, 2011
Day 6 - Thanksgiving in Hong Kong
We celebrated Thanksgiving a day earlier than friends and family in Bellingham. But, then, Thanksgiving was a bit different anyway. First, no turkey and second, the cook had to really maneuver with many fewer pans, dishes and utensils than she is used to having at her fingertips. However, with all said and done, it was a lovely meal with good friends and family.
James and I met KJ, Bryce and four-year-old Oscar at the ferry in the morning and headed for the dim sum restaurant. Nico came a bit later and Oscar was besides himself with excitement. "Marilyn," he said. "I forget what Nico looks like." Moments later, he said,"I forget what Nico sounds like." But,the anxiety was short lived as Nico soon came down the streets of the village on his dad's shoulders. The reunion took no time at all. After breakfast, the men all took a ball and the two little guys to the soccer field. Later on, they all went to the beach while Dani began cooking and KJ and I sort of helped and mostly visited.
Dinner was gammon (or fresh ham) that Dani had boiled and then baked, cheesy potato's, baked brussel sprouts, glazed carrots, green salad, and apple crisp. It was delicious. Dani has an oven that needs a part that doesn't seem to exist in Hong Kong so she cooked everything using a small, portable convection oven -- that meant that she cooked the ham, potatoes, brussel sprouts and the crisp one at a time. And, it worked just fine.
All in all, it was a lovely day with friends who are just finishing up their two year stint in Koala Lumpur and will be headed back to Bellingham in March. A lovely day to be thankful for friends and family both on this and the other side of the world.
Our Thanksgiving Feast

KJ and Oscar at Dim Sum

Some Shots of KJ and Bryce

A Light to the World on Thanksgiving 2011

Posted by Marilyn at 7:35 PM | Comments (3)
November 23, 2011
Hong Kong Day 5
Dani and I took the ferry into Central Hong Kong today to the big grocery stores in order to shop for Thanksgiving dinner. Once again, as in Singapore, I am surprised by grocery stores appearing in fancy malls. However, in Singapore they were always in the basement surrounded by food courts. The two stores we visited today were an integral part of the mall itself. One was a market with more western goods and smaller than the other, City Super, owned by Japanese and akin to a fancy Gelsons that had Asian food and international brands. It seems incongruous to me that both these grocers are in upscale beautiful malls with high end stores and financial businesses. Prices were high and goods beautifully displayed. They seemed to have everything anyone could want, but Dani saved some purchases for the less expensive island buying.
We walked through pathways that led from mall to mall. Evidently Hong Kong is one continuous mall. You can go for miles while staying within the confines of a building. We ate another western style lunch in an lovely setting in the midst of all the shoppers wandering through the stores. All this is in central Hong Kong and very close to the ferries. I had a steak sandwich and Dani had a Rueben. Again, so much for Chinese food! The clientele was well dressed. I must say that I felt both underdressed and overweight in this city filled with lithe chic women with high high heels and designer outfits. If you look around at the ferry terminal, people seem casually dressed. But, just a few blocks away in the middle of glassed-in elegance and designer brands, people were very well turned out indeed.
We bought goods for holiday eating tomorrow--two small fresh hams and potatoes and brussels sprouts as well as some cheeses and pate for snacking. Dani brought along a lightweight cart for the grocery bags. She decided I needed to try a custard tart with some tea before we took the ferry back to the island along with the little children returning home from their school day. All in all, it was a lovely trip to town. I'm looking forward to tomorrow. Friends KJ and Bryce and Oscar will be joining us from Kuala Lumpur for our Thanksgiving meal.
How strange to be across the world with friends and family from home.
All Decked Out For Christmas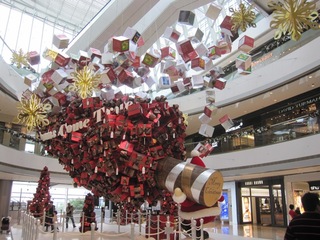 Some Shots of Hong Kong from the Malls

Our Sweet Little Luncheon Place

Hong Kong Was Excited to Get This Store

Disembarking Among the Bicycles

Returning Home to Lamma

Lamma Island Children Returning From A Day at School

Posted by Marilyn at 3:17 AM | Comments (0)
November 22, 2011
Hong Kong Day 4
What a relaxed day this was. It was a clothes washing day and a kick back and catch up day. I'm still a bit logy from the trip. Charles says it takes him a full week to totally bounce back. Dani, James and I had lunch in the village while their twice a week worker, Marie, cleaned the house. She also irons which is a plus without a dryer. My clothes are hanging outside on the upstairs patio on a drying rack -- reminiscent of Singapore and the little outside room that was part of their high rise apartment.
We had avocado/bacon salads for lunch and iced tea. Hmmm, yes, I am in Hong Kong -- but lunch seemed very much like home. Then we shopped for dinner supplies because Dani had a dentist appointment and was meeting Charles at the university. I took a bath in their lovely little tub and lounged around with James and Nico until Dani and Charles came home. Since this was such an uneventful day, I thought I would offer a few observations about living in Hong Kong.
1) I mentioned the smells in my first post. That is one big difference between here and Bellingham. I noticed the smells right off of the plane and continue to notice odors as I walk the alleys of Lamma Island. Sometimes there are food odors, odors from the houses that are so close, from the stores that line the village street, from the waterside, the drains, and just the odors of close village living. Fortunately, Dani's house smells just fine.
2) Mosquitos -- they are really bad last night and today. The door got left open for a few moments last night and we have all suffered. I'm one big itch!
3) The Hong Kong dollar is worth about 8 times the American dollar and it is daunting to pay $120 for a salad or $10 for a bottle of water. I paid about $450 for lunch. Yikes! I've now taken about $3000 out of my bank account, but I realize that it is only about $375 or so. Whew! Not so bad after all.
4) I still haven't figured out how to get to the village and back by myself. The route snakes around with about 10 or more turns. So far I've memorized left at the Banyan House, right at the iron door. There are several rights and lefts after that that I am just beginning to recognize. They frankly all look alike. To make it worse, there is a detour because of construction and a shortcut we can take which cuts off one block. Unfortunately, it involves more stairs, and it is too dark at night. I don't know if I will ever get it straight.
5) The hot water needs to be turned on each time you wash. The water in the kitchen sink comes out of a hand held faucet which I managed to turn on without holding the nozzle and squirted the entire kitchen. The light switches are on the outside of the room, and the sink in the kitchen slants. There is no heat in the house which is ok except in the winter months when it can get down to about 40 degrees according to Charles. There are air conditioners in several places. All the stairs are very steep and rather narrow so I'm extra careful navigating.
6) Lamma Island is one place in Hong Kong where there are both poisonous and nonpoisonous snakes. Fortunately, Dani suggests that they are now hibernating for the winter. I hope none of them wake up while I'm here.
7) Even on this tiny island there are tons of American food products. There doesn't seem to be any food restrictions since we safely ate fresh vegetables in our salads. The tap water is drinkable, although Dani & Charles buy large bottles of water since it tastes better. They cook with regular tap water. Vegetables from mainland China are heavily sprayed with pesticides so Dani tries to buy the more expensive organic produce when possible.
8) For the life of me, I cannot wrap my head around how Dani and Charles have been able to bring furniture to this house. It first gets taken from it's original location across the city to the ferry and stored in this little luggage section. This part seems doable. But, if you saw the narrow byways from the ferry to the house, you might gasp at the idea of moving beds and sofas let alone the big dining table they recently purchased at a garage sale. This wonderful man named Eddie maneuvers it all with the help of a tiny truck called a vee vee. Indeed, as you walk through the village streets you step aside for vee vees and bicyclists who give you fair warning with a toot. Add little ones on scooters and lots of walkers and it is amazing how everyone co-exists.
It is always fascinating to be in a different culture, but I'm also aware that America is not very far away when it comes to language and products shared across the world.
Posted by Marilyn at 5:53 PM | Comments (0)
November 21, 2011
Hong Kong Day 3
James was right when he said that I would do a lot of walking in Hong Kong. I feel it this morning. Yesterday I walked down to the village with Dani to pick up Nico from preschool and then back to the house. Later, we all trekked back down to the village to take the ferry to Hong Kong to meet Charles. Then, we walked to another pier and jumped on Dani's favorite Star Ferry for the trip to Kowloon. We were on route to the Kowloon Shangri-la luxury hotel for their amazing buffet in honor of James' recent birthday. We took a taxi to the hotel, but after the opulent dinner, we walked the boardwalk back to the ferry. Then, of course, we walked back to the ferry to Lamma and then had to drag ourselves through the village and wind our way through the many tiny alleys back to the abode. Yikes! The only good thing to say about the walking is that I did it without complaint or lagging too far behind.
1) The village is a colorful 7 - 10 minute walk from the house through the amazing back alleys of Lamma's residential area. It is a narrow concrete labyrinth through apartments and living spaces, gardens, hanging laundry, domestic animals, and bicyclists until you reach the main village road filled with vendors and stores. Another 7-10 minutes takes you up a more rural pathway to reach Nico's preschool.
2) The half hour ferry ride from Lamma to the center of Hong Kong and back is across more open waters than our San Juan ferries and therefore a rougher ride. One needs sea legs to be steady walking on and off the boat. The smaller and shorter ferry ride on the Star Ferry is much smoother and costs only a few cents. It is a short jaunt between Hong Kong and Kowloon.
3) The hotel was beautiful and the buffet amazing. We began the evening with a drink in the beautiful lobby. By a drink, I don't mean alcohol since a pot of tea just hit the spot for the adults at that moment. James had the fanciest concoction and Nico got orange juice in a tall glass. The buffet has six stations and an international cuisine of Chinese, Southeast Asian, Western, and Indian offerings as well as a wide variety of salads and desserts. One of my plates included mussels, clams, and oysters in their shells, crab and a few varieties of sushi. Nico, who ate a hamburger and french fries, followed his meal with three different bowls of chocolate ice cream with gummy bears while the rest of us sampled the more delicate desserts. Nico called upon all that sugar to propel him during the long walk to the ferry and the late night walk home.
4) After eating, we walked the Kowloon boardwalk along the water with the views of Hong Kong lights. Kowloon and Hong Kong do not have our problem with putting up Christmas decorations before Thanksgiving. Huge neon signs with Santas and trees and Christmas greetings are strewn across the landscape. Hundreds of tourists from all over the world were walking the boardwalk including those from mainland China.
5) All in all, it was a lovely experience and a satisfying opportunity to begin exploring this part of the world. This morning, as I am writing this blog, we are listening to the sounds of a remodeling project in the house just below. Dani wasn't happy that it was started just before I came and threatened to ruin my tranquil experience. We have visions of a very loud and raucous Thanksgiving. It's just a sign of the world always moving on whether you live in Bellingham or on a little island in the South China Sea.
Nico and His Friend Alan Riding Their Scooters Home From School Through the Village

James Giving Nico a Ride to the Ferry

Just a Glimpse of a Few of the Bicycles Parked by Ferry Riders

On the Star Ferry to Kowloon

James Enjoying His Drink in the Hotel Lobby

Nico and His Orange Juice

One of the Many Christmas Billboards

Honk Kong From the Kowloon Boardwalk

Posted by Marilyn at 5:57 PM | Comments (1)
November 20, 2011
Hong Kong Day 2
My claim to fame these days is that I was the one who found the Hong Kong house on the internet for Dani & Charles. It was a fluke that I entered Craig's List Lamma Island and this house came up. Craig's List is not a major factor in Hong Kong. For some reason it was hard to find the posting again. But, once was enough. Dani immediately fell in love with the pictures and Charles pursued it. It was too expensive, but they were fortunate to be able to make a great connection with the owners who chose them for tenants despite their budget constraints. Hong Kong friends who visit are amazed and immediately want Dani and Charles to pass it on to them when they move home. It is huge by Hong Kong standards, absolutely charming, and has a feel of the tropics.
You enter through very tall, dark, narrow wooden doors probably half again the heighth of what I consider a normal sized door. The windows are very large, criss-crossed with bright green ornate iron bars. The sheer size of the windows makes this a bright and cheery place. The house is on the very edge of the village and the view out the windows on three sides is mountain and jungle. On the first floor, the living room and kitchen are good sized with two smaller bedrooms, a bath/laundry room, and a large enclosed lanai serving as a dining room. There are two tiled first floor patios -- one flanking the living room and one off of the lanai. Upstairs there is another sitting area, two bedrooms and a good sized bathroom with a lovely bathtub/shower combination. A favorite place for Dani and Charles is the large upstairs tiled patio overlooking the village. And, to top it off (literally) there is a roof patio which I have not yet explored.
What makes this house seem so tropical to me (besides the overgrown jungle outside) is the dark, tall, narrow wooden doors, the tall inside transom doors, the whitewashed walls, the tile floors, the sheer height of the rounded beam ceilings, dark wooden furniture, and the ceiling fans. Dani says that this is a typical old Chinese stye home in a day when most older homes in the village have been remodeled or torn down for modern apartments. The owner lent Charles some of their Chinese traditional furniture and screens, like an elaborately carved wood "scholars table," and he and Dani have added beds, chairs, sofa and utilitarian items to the mix. But, what enhances the house is that Dani and Charles have added their own touch, which, if you know them, fits right into the style of this house. I've always remarked on their ability to find charming items wherever they are living in the world that make a house an interesting home. Here, in Hong Kong, they were lucky to begin with a unique and beautiful backdrop for their talents.
What makes this house seem like a McClellan/Wheeler home, of course, is that it is strewn with books and comfortable places to curl up and read, has a great stock of tea, some familiar pictures on the wall, a whole cupboard of spices, games, magnet held pictures and Nico's artwork on the refrigerator door and a plethora of bionicles. So, I will enjoy this home away from home halfway around the world. I look forward to the wonderful adventures.
A Little Nook on the Stair Landing

The First Floor Bath and Laundry Room

The Kitchen

Another Kitchen View

The View From the Upstairs Patio

A Little Chest Decor

The Wonderful Little Bathtub

The Jungle Outside

Posted by Marilyn at 4:42 PM | Comments (0)
November 19, 2011
Arriving in Hong Kong
I originally set up my blog because I was traveling to Singapore after Don's death to visit Charles, Dani and James. It was a lovely trip and it was a healing thing to do for my soul. Last night I arrived in Hong Kong and again I'm in a country that would not have been my first choice for travel, but one that I'm curious about. Again, I'm here because of my daughter's family which now includes Nico. The flight was mostly smooth with a smidgen of turbulence, but not enough for any anxiety (or much anxiety anyway). But, I'm continually amazed by my friend, Marilyn, who takes these marathon flights as a matter of course for her business. Also, William Reay who probably is in the international airways as much as he is on the ground. But Charles suggests that he flies first class which might make a huge difference.
I was impressed with Cathay although they were definitely not Singapore Airlines which had a higher grade of customer care (hot towels several times throughout the flight and constant service). Cathay, however, definitely trumps American air carriers with excellent food, choice of three entrees, moist towels, and larger foot room. And, of course, I love flying out of Vancouver where no one charges you for amenities such as luggage carriers. Kent and Robert took me to the airport and Robert remarked on the lack of frenetic energy there seemed to be in the airport. Everyone was pretty calm and relaxed including the passengers and the people who were serving them.
Maneuvering through the Hong Kong airport is a piece of cake. I was pretty exhausted after the 13 1/2 hour flight and two short less-than-an-hour naps. It was 4:00 a.m. for me and 7:00 p.m. for Dani and James who were at the airport to pick me up. Except for the long wait for my luggage, it took about five minutes to stand in line and 1 minute to go through immigration where I handed them a piece of paper saying who I was, how long I was going to be in Hong Kong, and where I was staying. Then, after I finally got my bags, it took about 1 more minute to walk through customs who didn't even give me a nod. I just rolled my suitcases through.
Fortunately, Dani had decided that we'd take a taxi to the ferry which took us to Lamma Island where they live. I was grateful since the other option was navigating the airport subway which would involved more walking. As it was, we waited for the ferry for 1/2 hour and then walked through the village to reach their house. Needless to say, I was glad to arrive and to see that I have my own little room with a wonderful bed. I slept the whole night through which obviously will help with jet lag.
This morning, we walked back to the village to have dim sum for breakfast. How cool is that? At some later date (when I don't have to catch up on my NaNoWriMo writing) I will talk about Dani & Charles' house which is great! But, for now, I'm having a really quiet day trying to get my bearings. James has accompanied Charles to a wedding and Dani, Nico and I are enjoying a lovely Sunday. Dani is making soup for lunch. Weather is a bit overcast but warm. Here are some pictures for you.
Three Pictures of Hong Kong from the Ferry to Lamma
Sitting Outside in the Village for Sunday Morning Dim Sum
The Local Haggens
The Main Street of the Village
Posted by Marilyn at 9:23 PM | Comments (1)
November 12, 2011
NaNoWriMo
I've neglected my blog lately since I'm forced to write 1600 words a day to keep up with NaNoWriMo and get to 50,000 words by the end of the November and come out with a novel. National Novel Writing Month attracts thousands and thousands of writers all over the world. There are about 7000 alone in Washington. The phenomena began in 1999 with 21 people in San Francisco who pledged to write a novel in a month. There were 6 who came into the finish line and completed the requisite number of pages. The next year they moved the July event to November to take advantage of the miserable weather. That year they had 140 participants with some outside of the Bay Area and even in Canada which made it international. They also worked on their website and had to come up with rules! The third year the count actually jumped to 5000 people much to the chagrin of the organizers who didn't have a sufficient system to handle the load. In 2010, there were 200,500 participants from all over the world. These are the people who sign up. About 20% actually finished their novel -- they are called winners.
Here is what I'm learning by writing so much every day. First, it isn't hard. I thought it would be. It only takes me on average about an hour & half to write about 1500 words. But, what I'm writing is simplistic and awful. Martin keeps telling me that everyone thinks that, and I will find when I finish that it is not as bad as I think is it now. In fact, we have a bet about it. But, I'm so determined to keep up the writing pace, that I simply cannot pay attention to writing anything very complex. Second, It is fun. It actually is.
Today I gave a luncheon for some friends and I'm bushed. It sounded more fun to write on my blog, but at some point I will spend some time with NaNoWriMo because if I don't, I will pay for it tomorrow. Then I'll have to write 3200 words in one day instead of 1600. Third, I keep hoping it is time to end the plot, but I realize that I have 2/3 of the month left and I haven't a clue where to go with it. Ok, how can I rev it up? Keep it going? Make it a page turner? I simply don't know now, and I won't think about it until I open the manuscript yet again. A better novel would take much more thought. Fifth, I admit that it really is a boring story and I haven't an idea where I'm going next. Sixth, I keep forgetting the names of my characters and have to make a list of them to keep them straight.
Martin reminded me that Annie Lamont wrote in her wonderful book, Bird by Bird, "Now, practically even better news than that of short assignments is the idea of shitty first drafts. All good writers write them. This is how they end up with good second drafts and terrific third drafts." Well, I but definitely have a shitty first draft.
But, I persevere -- all because my son not only gave me a whole page of reasons why I should do this, because I have befriended Martin, Dani, James, and Nicole who are also doing it, because I actually am a person who likes external pressure to get something done, and because my son keeps checking in with me like an AA sponsor who is keeping tabs on someone who is not quite sold on the idea and might fall off the wagon at any moment. If I get through this, I will certainly give him credit.
Off I go -- to have some supper and to come back to the computer for another 1600 pages after I Skype with Dani. I realize that I can write a heck of a lot of words during a 13 hour plane ride to Hong Kong. Yoo Hoo!
Posted by Marilyn at 4:53 PM | Comments (0)