« August 2011 | Main | October 2011 »
September 30, 2011
Going to the doctor
I feel the world has righted again. Katie has come back to stay twice a week after a summer's vacation, we have new parking permits from the parking gestapo in Bellingham (at least I finally got them to give Katie a permanent pass instead of using one of my two hanging temporary passes), and the weather has been rather warm and balmy. My new church committee is now firmly underway after a terrific meeting last night, and I'm actually following my schedule and walking Boulevard Park everyday. I didn't know, however, that it was a possible problem!
My little finger of my left hand still hurts and is a bit stiff so that gave me a wonderful reason to return to see Dr. Thorpe who is an absolutely gorgeous orthopedic doctor that I have known since my Fairhaven counseling days. He claims I helped his daughter through a rough time. I remember talking to his wife, but frankly cannot even imagine that I didn't remember him very well since I'm not blind. In any case, I went to see him and found that my finger is healing just fine and has no major problems. But, when I told him that I really wasn't having any problem with my arthritic knee, he suggested that my walking wouldn't help. A year ago he pronounced it "bone on bone" and couldn't believe I wasn't in pain. But, I'm not. I do favor it, but that is because it is sometimes a bit stiff -- but it simply doesn't hurt anymore. He tells me that it will -- maybe not in one month or five years -- but expect it! And (this is the most important part) I'm bringing that time even closer by power walking. I explained to him that he could hardly describe my walking that way, that is was really more like strolling. However, he did say a change to swimming or biking would be best! Yikes, I finally establish a routine that I have been really enjoying, and it isn't in my best interest!
On another note, my lovely son is trying to talk me into doing Nanowrimo during November. It is a commitment to write about 50,000 words during the month and coming out the other side with a novel or a book. I've been talking to him about a parenting book that I've started. He thought I should write it on my blog, but I'm thinking a separate parenting blog would be more conducive to chapters from a book. He sent me an email with 8 reasons I should do Nanowrimo and write around 2,000 words a day. I'm thinking about his challenge. He has done it several times. Heck, even James and Nicole have done it. How cool is that????
In any case, I have lots to ponder and I'm wondering if I can do the writing since I'm also still thinking November for Hong Kong. I'll let you know what I decide. In the meantime, I'm gonna keep on walking and hope my knee doesn't suffer too much from the exercise.
Posted by Marilyn at 9:35 AM | Comments (2)
September 22, 2011
Multitasking!
OK, here is the deal! I wrote this last Thursday and didn't send it because I was going to take a picture of my soups! Then, they didn't seem photographic enough. Since Thursday, I finished one book and waited all day for the boys to come help me move and they didn't show up. I've finished spackling my dining room wall and I'm ready to wash it down to paint. Other than that, the post still stands -- without pictures. Sorry!
The other day I wrote that fall was here, but then it turned to summer again -- until today! Yesterday evening when I went out it was overcast and 76 degrees. It was so warm and balmy! Last night it rained and looks pretty cool outside today - although I've been fiddling with my computer because my new church group has set up a Google website and common email for our members. I'm still not sure how to send mail to them although I receive it fine. I sent out a message and it came back unsent - until my co-chair said that she received it just fine. I hate the learning curve on computers. And, speaking of computers, I'm annoyed with both Facebook and Netflix - why can't companies just leave well enough alone. Then, I actually wrote a complaint to Netflix on their site and it got posted on my Facebook page! That annoyed me further - if I had wanted it on my Facebook page, I would have put it there in the first place.
Computers aside, I have had an interesting week that I attribute to multi-tasking! I don't know how it all came about, but yesterday I stood still and marveled about what I had set in motion around the house. It didn't come together in my head until I wrote a note to Margie and Bev who are in my writing group. I realized that I was reading three books at one time. In my bedroom at night I have been reading "Garden of Beasts" by Erik Larsen for my book club. It is the story of our American ambassador to Germany just before WWII - and it is plenty scary. I also have a little book of essays by Anne Fadiman going when I want something quick to read in the bathtub. Then, downstairs I'm reading a mystery, "The Vault" by Ruth Rendell. I love her Inspector Wexford series. Her other books are too eerie for me.
Upstairs, I am clearing out the rooms that Dani & the boy used during their stay and also packing up some stuff in the attic to be moved to the basement. Downstairs, I am in the middle of spackling and repairing my cracks in the walls for painting. I'm taking apart the bookshelves in the closet in the upstairs bedroom, taking wallpaper off of the guest bathroom wall, and making two soups and a peach cobbler today. I do think that qualifies as multitasking, don't you?
I don't know how I got involved in so many diverse projects except that I sometimes do a few things here and there when I am in the mood. I've hired a few lads to come on Sunday to haul stuff down to the basement and sub-basement in my clearing-out mood. Hopefully, all these projects will slowly get done -- especially if I actually put all my energy into just one at a time. But, it's sort of fun to tinker here and there and slowly see things come together.
In any case, I need to go begin the soups - the first one is chicken vegetable because I had the bones of a Costco chicken I made into stock and I'll finish some soup today. The second one is cauliflower because I might as well make two soups at a time and put one in the freezer. The peach crisp is for my dinner group tonight. I wanted to get to the local Pence peaches before they leave the market for the season. I guess I'm off to cook!
Posted by Marilyn at 11:40 AM | Comments (0)
September 19, 2011
I Guess Fall is Really Here!
I never remember the first day of fall or the rest of the seasons also - until I hear it or read it somewhere. But, the weather is certainly fall-like and there is a tree in Boulevard Park that is completely fall colored. It stands tall between evergreens and looks like the only seasonal statement in the park. I've been walking the park for two weeks now and hope that I'm forming a new habit. I missed last Friday, but made up a bit by walking a bit around the zoo on Saturday with Martin and Lionel. We didn't stay long, but got to see a great lumbering bear and lots of other animals that Martin says are usually hidden during the day. Lionel loved the bear and got very excited when he came close to the glass wall between us.
It seems like I have been doing a lot of church related business of late. Last week I had four church meetings. I'm a co-chair of a new task force which had its first meeting Thursday evening at my house. We are looking at the organizational structure of the church and we are the third task force in this process. It started around the time that Donel retired because the powers that be wanted to look at the structure of pastors thinking that it was not a good fiscal choice to have two equally paid pastors - and so the first task force went back to a senior and associate pastor instead. The second task force then began looking at the board structure which is pretty endemic in the UCC system. We will continue to look at this by going to the congregation and getting feedback about our strengths and future needs. It is a daunting, but fascinating task.
Church is very interesting for me nowadays. I miss Dani since we had lots and lots of discussions about it. Some days I enjoy it very much, sometimes I miss Don tremendously because I am disappointed with the service and some of the decisions being made. I love our new pastor, but I'm not sure it is helpful to have both a senior and an associate pastor who are so new, and pretty green, at their jobs. My brain has a pretty high tolerance for change and for growth, but I find sometimes that my gut does not. So, when a service goes on and on when it would be more prudent to stop when some people want more rather than after others get bored, I just want to leave and not come back. I love my church and find this disconcerting. It is not as though I always agreed with Don about every decision he made. But, he really had a gift for putting together a service that was a work of art -- of course, by the time he came to Bellingham, he had smoothed all the rough edges and had 16 years experience and feedback from the churches he served. Sometimes Kent, especially, reminds me of the younger Don at Santa Barbara - Don was younger when he was hired in his first church, but he had about the same amount of experience with four years as a pastor to youth in Oakland while he was in school.
In any case, I am pleased to feel pretty comfortable to talk to Kent. But, I need to learn to be patient, too. We'll see how it all shakes out as we move forward. Most people seem well pleased. I'm glad about that!
Here's my little guy having lunch at the zoo. Love those bananas!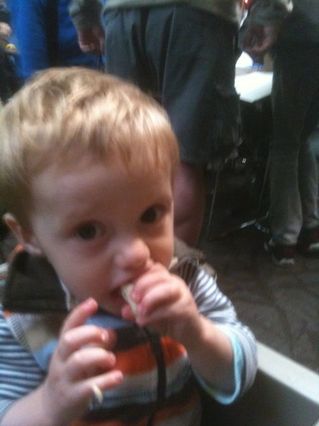 Posted by Marilyn at 10:14 AM | Comments (0)
September 7, 2011
The End of Summer!
It may be time for fall, but summer is finally here if you judge summer by several consecutive days of sun. That gives some hope for my tomatoes finally ripening (I've had two so far) and for some walks along the water at Boulevard Park. I'm still working on clearing the house of family living and returning the guest rooms to normal. I've spent two days walking the park and enjoyed lunch at the tea room today with Janet Johnston who lost her husband several months ago. I had promised her a lunch out someday and finally got around to it. We had a nice time chatting about church and the grief process and our families. I know Janet from a committee we were on at church, but don't know her well. Now I would like to know her better since we seem to have things in common. She came to our church just after Don announced his retirement because of his cancer, so she never heard him preach.
I have set myself a new schedule. It has to include three things every day (everything else is a bonus). First, eating healthily and sparely, second walking, third writing. I don't think I can count on two days as a new habit, but I think I can say I have a good beginning. I do love walking by the water at Boulevard Park. It reminds me of how fortunate I am to live where I live. Yesterday the park was filled with children enjoying their last day of summer vacation. I had a father and daughter walking the boardwalk just behind me yesterday. He was talking to her about whether or not she would get the teacher she wanted and how it would be ok if she did not. He promised she could still have a great year at school. She said, "I know, I know!" I loved overhearing a conversation that probably went on in dozens of homes in the city the day before school. I used to be on the other end with dozens of people on my doorstep if, indeed, their child did not get the teacher he or she wanted. I always suggested that they wait a week or so before deciding all was lost, and that their child might still have a great year! It was always curious to hear how the grapevine determined who the best teachers were and how that might, or might not, be true for a particular individual.
Today the children were missing from the park since they are all in school. I miss the excitement of the first day of school. New clothes, new pencils, new notebook and fresh paper, a new beginning, and the anxiety mixed with hopefulness of a fresh year. My year still begins in September - it is so ingrained! I never think of January 1st as a new year. It is always this day in September when children go back to school, when church school and church choir begins, when the summer winds down and it begins to get chilly and the trees begin to turn. I love the fall bazaars in all the churches in town. I love the feelings of a fresh start and the gearing up of activities and even the return to the rhythm that gets all haywire in summertime. Perhaps it is the mystique of a new beginning that seems cleansing and refreshing no matter what you do in life. Beginning again, making it better this time, changing just a bit your old habits and hopefully gaining some new skills. I am forever hopeful that I am not too old to learn new skills, discover new talents, unravel those bad habits and gain insight into making a better me!
My New Year's resolutions definitely begin in September. Here's a salute to the end of summer!
Posted by Marilyn at 3:40 PM | Comments (0)
September 2, 2011
Cooking and Eating
All of our children and their spouses are amazing chefs. One of the joys of having such a daughter living with you is having your daughter cook for you! I always wished that Don would learn to cook because as much as I love to cook, I really really love to eat what others cook for me! The first task I undertook the day after putting Dani and boys on the airplane in Vancouver was to attack the kitchen. My kitchen was full to the brim before Dani moved in -- it has been brimming over ever since.
I divided the major attack on my kitchen into chunks. The first day was to clean out the pantry and refrigerator of food that I either did not eat or should not eat and take it over to AmySue. Two bags later I was on my way. She got crackers, cereals, snacks and anything childlike from the pantry. She got string cheese, ice cream, yogurt pops, orange juice popsicles, and other such stuff from the refrigerator. That was my day one task. Yesterday I attacked the pantry and today I cleaned the refrigerator by taking it all apart and washing every nook and cranny.
This process has been illuminating to say the least. I have food that I have never heard of before. And, frankly, I don't know what to do with much of it. Since I can't bare to throw perfectly good food away (especially now with the price of groceries), I guess I'll have to email Dani and ask how to use it. Here are some items that were left behind: coconut oil, 2 packages of Harissa, several kinds of dried items (ie. garbanzos, kasha), black bean garlic sauce, Kocha, a bottle of liquid aminos, sweet chili sauce, and something called Zoatar which seems to be a combined spice mix of thyme, Sumac, sesame, and salt. Where does she find out about these things? I hesitate to guess what she is going to bring home from Hong Kong.
Now, you may think this means that she is an alternative cook (by my standards) but that is not the case at all. She probably leans more to the various grains than I do. I would not choose Lentils over other starches for instance. But, she is a delicious cook. We had a wonderful green salad every single day she was here. She also cooks healthy meals nightly for a four year old and a 15 year old -- and they are good eaters although Nico goes off and on certain things. Now I'm by myself, I will throw something together quickly -- and that means something easy and small. That is not in Dani's vocabulary. She is delighted that their Hong Kong kitchen is well equipped and she packed lots of important items like her good knives to take with her.
Tomorrow I'm cleaning out the food cupboards next to the stove. I haven't a clue what I'm going to find, but I know there is at least three packages of sea salt. Then, finally to finish off cleaning the appliances and the floor which never stayed clean for long with children around. The house is quiet without them. I keep expecting someone to call, "Grandma!" Or for Nico to try to sneak into the refrigerator to rummage for a leftover popsicle.
If anyone has any good recipes for dried garbanzos, please let me know or I'll be eating a lot of hummus!
Posted by Marilyn at 1:44 PM | Comments (2)